Apple Watch is an everyday essential accessory, you'll need an equally daily Apple Watch band to go with it. These bands look great and are tough enough to handle everything you throw at them. They may not be as fashionable as an expensive designer alternative, but they will look just as well on public transportation as they will in the workplace. Consider these Best Apple Watch Bands  to get a better look and also  to get a band that suits your attire.
Nike Sport Bracelet
The Nike Sport Band for the Apple Watch is not only branded, but it also has a distinct style. It's composed of fluoroelastomer and has compression-molded holes for extra ventilation. The design screams fitness, yet it should feel fantastic whether you're working out or relaxing on the sofa. It aspires to be soft, smooth, and comfy while yet being sturdy and strong. It also comes in a variety of hues, including an eye-catching multi-colored Pride variant.
Wepro Black Buckle
The Wepro Black Buckle is straightforward. It's composed of silicone, so it's sweat- and dirt-resistant, but it looks more like a classic watch strap than other silicone bands. It has a classic buckle style, which isn't as practical as the pull-over technique, but it allows you to easily change it during the day - and it also makes this band cheaper. Given the price, durability may be a concern, but we believe it is a steal. The adaptable style would appear equally at home in a gym or a bar.
Shop  Online Best USA Products from India @GetUSCart
Digihero Braided Solo Loop
This DigiHero Braided Solo Loop strap looks fantastic for the price, embracing the Braided Solo Loop aesthetic for less. It lacks the stretchiness of the original product, so you'll have to make do with its loop buckle design, but it's created from 100% recycled materials and should feel nice on your skin while still allowing for plenty of ventilation. While this band lacks the quality and polish of the official Apple version, it is a fraction of the price. It is available in a variety of colors, and considering the modest price, you may buy several.
Tasikar Strap Apple Watch Band
The Tasikar Strap is an affordable choice. It employs magnetic straps to keep the band securely attached while remaining comfortable around your wrist. You may also flip it around to get two colorways in one. As a result, it is appropriate for both the office and less formal settings. It appears to be constructed to endure, but that robustness comes at a cost - not in terms of money, but in the fact that this watch strap is a touch hefty. Because of the usage of magnets, it is also heavier than some. If you want a thin and slim Apple Watch band, this isn't it.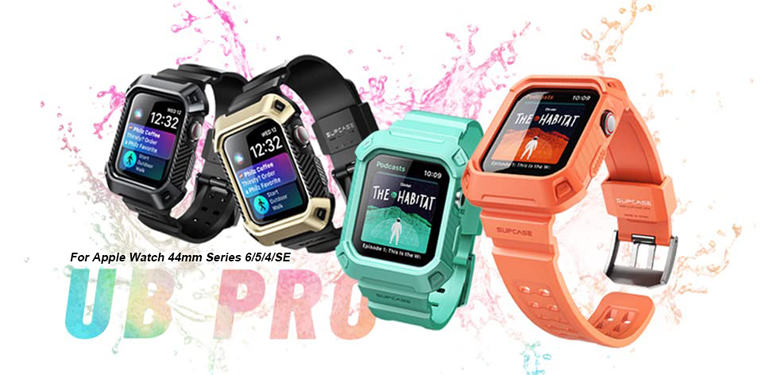 Supcase Unicorn Beetle Pro
The Supcase Unicorn Beetle Pro is a wonderful alternative if you want a tough Apple Watch band for lifting but don't want to compromise too much on design. It protects your Apple Watch with a bumper that absorbs shock and a raised bezel that protects the screen. The hefty design isn't for everyone, but if you're undertaking activities that may damage your Apple Watch, it should be more protective than other sports bands.
Best Apple Watch Bands on GetUSCart
1. Wepro Bands Compatible with Fitbit Versa
2. DigiHero Compatible for Apple Watch Band
3. Tasikar Band Compatible with Apple Watch Band
4. SUPCASE [Unicorn Beetle Pro] Rugged Case Strap Bands
5. adepoy Sport Band Compatible with Apple Watch
Final Word
When selecting an Apple Watch band, the first two things to consider are your budget and what you want to do while wearing the Apple Watch, most notably if you intend to work out, swim, or wear it somewhere smart. If exercise isn't on the schedule, try something classier, such as a metal or leather band - and if money isn't an issue, designer bands may be worth considering.
Related Content:
1. ONLINE SHOPPING FROM USA TO INDIA     2. BEAUTY AND PERSONAL CARE PRODUCTS